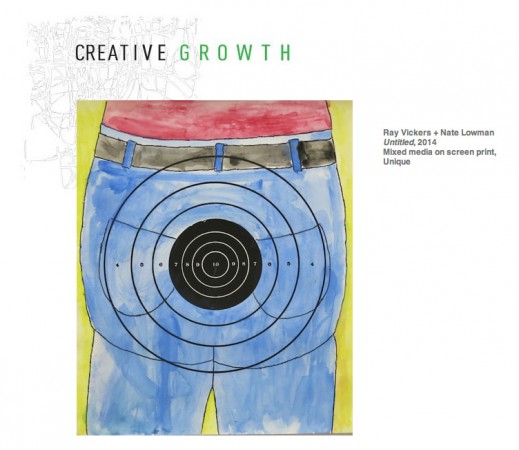 Get Your Tickets / Celebrate With Us!
Food by DUENDE / Music by Mattson 2
FIRST LOOK AT COLLABORATIVE WORK
AVAILABLE DURING JULY 9 EXHIBITION
PREVIEW + 40TH ANNIVERSARY EVENT!
Creative Growth vs Anne Collier / Trisha Donnelly /
Chris Johanson / Nate Lowman / Laura Owens
A Project for Creative Growth's 40th Anniversary
organized by Matthew Higgs
Anne Collier, Trisha Donnelly, Chris Johanson, Nate
Lowman and Laura Owens were invited by curator
Matthew Higgs to create a new screen print as part of a
project to celebrate forty years of Creative Growth Art
Center. Creative Growth artists then worked on top of the
printed images to create 200 incredible new art works.
ALL COLLABORATIVE PRINTS ARE PRICED AT $250!
This project captures a moment within forty years of
artmaking, when Creative Growth artists have collided
with the contemporary art world, while maintaining their
unique aesthetic sensibilities and approach.
A truly remarkable time to celebrate together!
Wednesday, July 9, 2014
6:00 – 9:00PM 
Event Ticket Includes:
Exhibition Preview
Food by DUENDE
Wine by Ordinaire
Live Music by Mattson 2
Host Committee:
Stephen Beal
Yves Béhar +
Sabrina Buell
Renee Bott
Rena Bransten
Anne Collier
Ed Gilbert
Matthew Higgs
Leigh Markopoulos
Lauren McIntosh +
Stephen Walrod
Pam Paulson
Larry Rinder
To purchase tickets by phone please call:
510-836-2340 x17
or email dan@creativegrowth.org
Creative Growth Art Center
355 24th Street
Oakland CA 94612
USA
510-836-2340 x15
creativegrowth.org