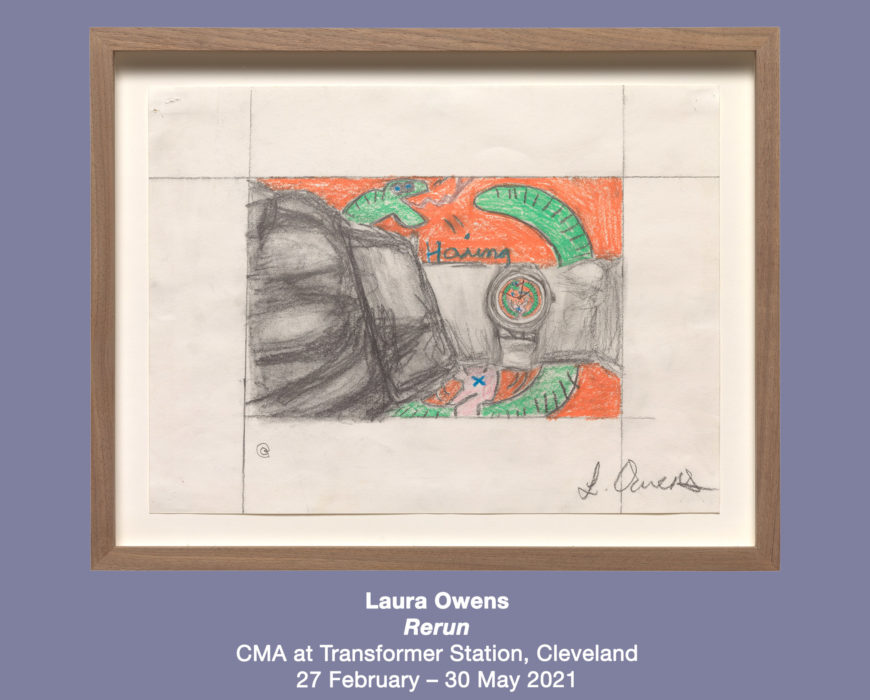 Laura Owens: Rerun
The Cleveland Museum of Art at Transformer Station, Cleveland27 February – 30 May 2021
Opening: Saturday 27 February 2021
Opening this weekend, Laura Owens: Rerun is an ambitious new project presented with the Cleveland Museum of Art at Transformer Station.
Celebrated for a wide-ranging and experimental approach to painting that embraces a breadth of sources, Laura Owens returns to her native Northeast Ohio for her first exhibition in the region, Laura Owens: Rerun. Organized by the Cleveland Museum of Art, Laura Owens: Rerun is a collaboration with high school students participating in the CMA's Arts Mastery program, Currently Under Curation (CUC). The exhibition features new and existing works by the artist that Currently Under Curation teens have selected to explore the theme of time travel.
Currently based in Los Angeles, Owens grew up in Norwalk, Ohio, and spent many hours as a teenager studying the Cleveland Museum of Art's encyclopedic collection. From the earliest days of planning this exhibition, Owens knew she wanted to work with local teenagers as a way to connect her own past and present and to develop a show rooted in Cleveland. Students from the CMA program involved in the exhibition are Jamal Carter, Xyhair Davis, Skylar Fleming, Yomi Gonzalez, Joseph Hlavac, Agatha Mathoslah, Arica McKinney, Maya Peroune, and Deonta Steele.
In Transformer Station's main gallery, time travel is animated through well known works by Owens that span her career. They are shown alongside the artist's own art from high school, presented publicly for the first time. The Crane Gallery features a new site-specific installation of Owens' unique handmade wallpaper. Laura Owens: Rerun also presents objects from the CMA's Education Art Collection, which includes more than 10,000 pieces from many different eras and regions of the world and was created to be shared with Cleveland area schools for educational purposes.